Light on new worlds and characters has been shed at Jump Festa.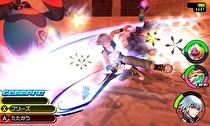 New details regarding Kingdom Hearts 3D, including a release date for Japan, have been revealed at the Jump Festa 2011 event.
Kingdom Hearts 3D has been given a March 2012 release date for Japan, which was confirmed by a writer for FF-Reunion.net that attended the event. The writer also mention through Twitter that Square Enix showed off a new 8 minute trailer of the game, and that according to him, the game looked good. The writer also reports that characters from Birth by Sleep, mainly Axel, Ventus and Terranort (a fusion of Xenahort and Terra, an event chronicled in Birth by Sleep's story that shapes the rest of the franchise) will make appearances in the game.
In addition to the details offered by FF-Reunion.net, Jump Festa also confirmed a new TRON world, based on last year's sci-fi film TRON Legacy. Kingdom Hearts II featured a TRON world named "Space Paranoids", based on the 1982 movie starring Jeff Bridges. Recently, a world based on "Mickey, Donald and Goofy: The Three Musketeers" was also confirmed through an issue of V-Jump. The Jump Festa demo features these worlds as playable levels as well as a mini-game in which Sora was gliding through the stage.