Sora and Riku will encounter Disney's famous characters in a musketeer inspired world.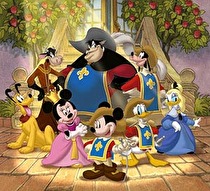 A new world for Kingdom Hearts Dream Drop Distance has been revealed in the latest issue of V-Jump. The world is based on the movie "Mickey, Donald, Goofy in The Three Musketeers".
Titled "Country of the Musketeers", Sora and Riku will encounter Mickey, Donald, Goofy, Minnie and Pete as The Three Musketeers characters. The film was released in 2004 as a direct to video movie loosely based on The Three Musketeers story. This marks the first time the Kingdom Hearts series has used a world inspired by a direct to video Disney production.
Country of the Musketeers joins "Prankster's Paradise" (Pinocchio world) and "La Cité des Cloches" (Hunchback of Notre Dame world) as one of the confirmed Disney worlds for Kingdom Hearts 3D.
In addition, the publication confirmed that Neku will not be the only character from The World Ends With You that will make an appearance in Dream Drop Distance. Joshua and Beat will also be representing Square Enix's popular DS RPG.