Surprise simultaneous release covers all regions but Japan.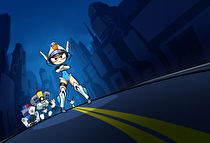 Mighty Switch Force's North American release date has been moved up to December 22, coinciding with the previously announced launch in Europe and Australia. The title will cost $5.99/€6.
Previously, the eShop puzzle-platformer was scheduled for a Q1 2012 release. Developer WayForward announced the surprise update on Facebook and Twitter.