North Americans will have to wait until next year to play WayForward's latest downloadable. UPDATE: or not.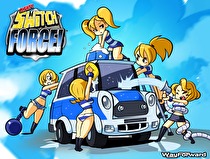 Mighty Switch Force will launch on the European eShop on December 22, WayForward revealed to us at Nintendo's eShop Demo Tour yesterday. Update: WayForward confirmed that the game will also arrive in Australia and North America on December 22.
A North American release date has not been set in stone, but the game should appear in the first quarter of next year.
Mighty Switch Force stars robot Patricia Wagon, who is tasked with rounding up the five convict Hooligan Sisters, in a puzzle-platformer where players have the power to phase blocks in and out of existence. It is the third title carrying the Mighty name and the first for 3DS.
WayForward also provided us with a sample from the game's soundtrack, which was composed by famed remix composer Jake "virt" Kaufman. The track is titled "Yummy," a reference to what the protagonist says whenever she eats a disk for energy. WayForward will be making the full soundtrack available in the future.