A system update and a decent amount of downloads, what more could we ask for this week?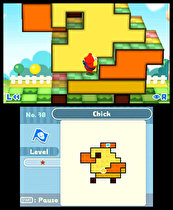 Following what seemed to be a massive system update for the 3DS, Nintendo decided to release four titles across their downloadable services; unfortunately the Wii Virtual Console was once again neglected.
This week the eShop received the 3D puzzle game Pushmo. The game arrived in Japan last month with much praise and has now finally landed in the states. Push, pull, and climb your way to the goal in more that 250 puzzling stages. Pushmo is available now for $6.99.
The DSiWare/eShop acquired two new titles this week. Castle Conqueror - Agaisnt places players in control of a warrior from an ancient tribe who is out to punish the invading empire. The game can be downloaded for $1.99. The other title available on the DSiWare or eShop services is Word Searcher 4. Search for words among letters in the 100 differently themed puzzles. Players can begin searching now for $4.99.
The WiiWare service received one title this week, as well as a demo of a game. Paper Wars: Cannon Fodder is tower defense game that supports up to four player in co-op mode. It is available for 500 Wii Points. A downloadable demo of the September released MotoHeroz was also made available.
Nintendo Video was updated with a new music video by Foster the People. You can watch Don't Stop (Color on the Walls) now on your Nintendo 3DS.