Don't have the Mario games, but want the Friends List update? Here is how to get it!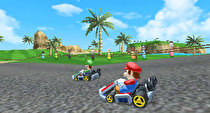 Mario Kart 7 distributes the 3DS Friends List firmware update when playing over Download Play. We found this update mechanism when playing the game with our friends and family.
The update allows players to join their friends directly for online Wi-Fi matches in supported games. This feature can be only be used for Mario Kart 7 at the moment of this writing.
The firmware must be installed to play Mario Kart 7 over Download Play. If the player who uses Download Play decides against it, he/she will be cut off the connection and can't continue any further.
Nintendo has previously discussed looking into alternative ways of distributing updates, including sending firmware updates to the Wii U from the 3DS, but this is the first time such a mechanism has gone public.