The game will be coming to the 3DS in Europe through Club Nintendo.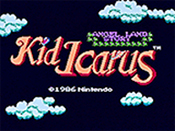 3D Classics: Kid Icarus will be the next title to be remade for the Nintendo 3DS with enhanced 3D graphics. The 3D Classics release was previously announced for Japan during the 3DS Conference in October.
Kid Icarus was originally released for NES in 1987 and was also released on Game Boy Advance in the Classic NES series as well as Wii Virtual Console.
The title was announced as part of a promotion for Club Nintendo Europe. Registering two eligible 3DS games between November 1st and January 31st 2012 will grant you a free download code for the game, available exclusively to Club Nintendo members. The list of eligible games includes all of those published by Nintendo, which all have the Club Nintendo code in the box.
As part of the same offer, there is a prize draw for 3,000 limited edition 3DS systems featuring Mario, Princess Peach, or Toad as part of the system colour. For the prize draw, you can enter up to five times by registering up to 10 games in total.
As the Japanese release was presented in the same way, North America may see the same offer, but as of now, no announcement has been made.