Shinrei Camera is a new game set in the Fatal Frame world.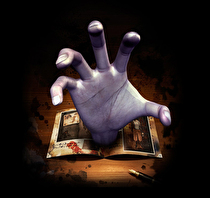 Tecmo's haunted photography simulator Fatal Frame is coming to 3DS with an AR twist, in the form of Shinrei (Spirit) Camera.
In a cooperation with Nintendo as their publisher, producer Keisuke Kikuchi and his Fatal Frame team at Tecmo are developing the spin-off set in the same world and continuity as the main series. The game will come pre-packed with a haunted notebook for use with the 3DS' augmented reality functions. When the camera points to the various pages of the book, the AR kicks in and reveals secret messages, strange spiritual vortexes, clues about the game's story and past and of course, vengeful apparitions. Players will have to manually turn the pages and scan them to discover all of the ghostly secrets contained within.
Shinrei Camera is set to feature three game modes. First is a story-based adventure much like the rest of the series, a mini game collection focusing on the enclosed notebook and a "ghost camera" mode allowing you to take spooky photos of yourself and your friends.
There is no known release date yet, nor any hint of plans to localize the game.