The sports hit is being revived with motion control options.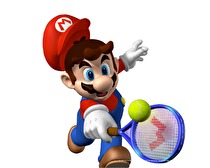 Mario Tennis will be released on Nintendo 3DS, Nintendo announced at the 3DS conference in Japan. The game will be released in 2012, and will feature optional gyroscope control.
The video showed at the conference spotlighted Mario, Luigi, Peach, and Bowser playing tennis together. Although it is unknown who is developing the title, the previous Mario Tennis games on Nintendo 64, GameCube, and Game Boy systems were developed by Camelot. The last original Mario Tennis game was Mario Tennis: Power Tour, released in 2005 for the GBA.