A good mix of old and new hits the European download services this week.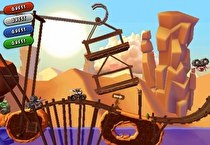 Thursday is approaching, so it is time to tell you which downloadable games will be available in Europe this week. We have four titles, with at least one game for every platform.
Nintendo eShop users have the chance to download Mega Man: Dr Wily's Revenge. The game, originally released in Europe around 1992, plays similarly to the first two NES games. Players will have to battle their way through four different stages to destroy the evil plans of Dr Wily. The game will cost you €4.
On DSiWare there is just one title this week in the form of Cosmos X2. First released in America last year, this vertical 2D shooter puts you up against a big alien army. Unique about the game is the way you can use two weapons at the same time and swap them out as the situation demands it. Cosmos X2 will set you back 200 Points on the DSi Shop or €2 on the Nintendo eShop.
Finally, Wii owners have two new WiiWare games to choose from this Thursday. Kyotokei is a side-scrolling shoot 'em up for up two players, where they control two magical siblings, Kyo and Kei. Use a powerful aura of protection to absorb enemy spells and unleash their power all at once. You will have to travel through dark swamps, cold mountains, dangerous caves full of lava and much more to defeat the evil witch Rika. Kyotokei will be available for 500 Points.
MotoHeroz is a side-scrolling racer that combines the high-flying gameplay of Trials HD with platforming elements and rally racing. There are varied race environments, like ice, desert, and moon levels. There will be over 100 tracks to race on, online leaderboards, and even a story mode for you to tackle. There is also an option to compete with up to four friends locally in the Party Rally mode. Last week we shared some exclusive footage for title, which you can find here. MotoHeroz will cost you 1500 Points.