Super Mario Galaxy and three other Wii games now available for $19.99.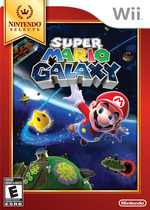 Super Mario Galaxy, Mario Strikers Charged, Punch-Out!! and Super Paper Mario are now part of the Nintendo Selects line of Wii titles retailing for $19.99.
All four games were well received critically, with Nintendo World Report giving Mario Strikers Charged an 8.5, Super Paper Mario a 9, and Super Mario Galaxy and Punch-Out!! 10s. The titles join The Legend of Zelda: Twilight Princess, Animal Crossing: City Folk, Mario Super Sluggers and Wii Sports as part of the discount line.