Flame Red joins the lineup.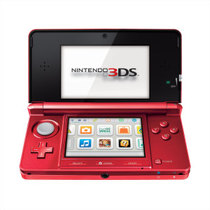 Nintendo 3DS will be available in a new Flame Red color on September 9, the same day that Star Fox 64 3D launches in North America. Currently, the system is only available in Cosmo Black and Aqua Blue. The new 3DS color will be available at the MSRP of $169.99.
This isn't the first time we've seen a flame red handheld from Nintendo: a color of the same name was paired with the Game Boy Advance SP.