Nintendo sold more than 283,000 copies of Ocarina of Time 3D during its first month in the US.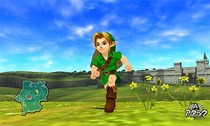 The Legend of Zelda: Ocarina of Time 3D is doing rather well. The game has sold more than 283,000 copies in the United States during its first two weeks, making it the number two best-selling individual platform game (and number five overall) for the month of June, according to this month's NPDs.
Nintendo has also seen success in hardware sales, moving more than 800,000 systems in the United States, including 386,000 DS, 273,000 Wii, and 143,000 3DS systems. Also, 13 of the top 25 best-selling titles play on Nintendo platforms, and the Wii's install base in the United States is now at over 36 million units.