Players will be able to manipulate gravity in this unique DSiWare effort.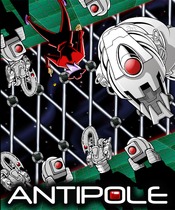 Saturnine Games's DSiWare game, Antipole, will be released on July 21.
The game is an action platormer where players use the power of gravity to escape obstacles, destroy enemies, and reach new areas. In addition, players can collect coins that give them access to challenge levels. Other modes include a race against the clock mode and a hard mode.
Saturnine Games has previously worked on DSiWare. Their previous title, Cosmos X2, was released last August.
Antipole has been given a 500 DSi Point ($5) price. You can read our impressions of the game here.