Resident Evil: The Mercenaries 3D enters in the top spot.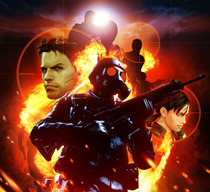 It was another slow week in Japan in terms of video game sales as, for a second consecutive week, the best-selling game sold well below 100,000 units.
Resident Evil: The Mercenaries 3D, which was released last week, debuted in the top spot with sales of 58,792. The game easily outsold the runner-up, One Piece Unlimited Cruise Special, which fell one slot from last week. It shifted 16,753 units last week, bringing its lifetime total to 97,241.
Battle & Get! Pokémon Typing DS continued to perform well in the third spot, as did Dragon Quest Monsters: Joker 2 - Professional in the fourth position. Both titles sold approximately 11,000 units last week.
Pandora's Tower for the Wii took a sharp tumble down to the eight position, selling 8,436 copies. It has shifted 29,881 units in its two weeks on the market.
In terms of hardware, the Nintendo 3DS saw a rise for the second consecutive week, though it was still marginally beat out by the PlayStation Portable. The PlayStation 3 also beat out the Wii by 10,000 units.
The sales of the top 10 video games in Japan for the week are listed below:
01. [3DS] Resident Evil: The Mercenaries 3D (Capcom, 06.02.2011): 58,792
02. [3DS] One Piece Unlimited Cruise Special (Namco Bandai, 05.26.11): 16,753 (97,241)
03. [NDS] Battle & Get! Pokemon Typing DS (Pokemon, 04.21.11): 11,014 (119,391)
04. [NDS] Dragon Quest Monsters Joker 2 Professional (Square Enix, 03.31.11): 10,729 (519,496)
05. [PS3] Troy Musou (Koei, 05.26.11): 10,306 (41,734)
06. [X360] Phantom Breaker (5pb., 06.02.11): 9,960
07. [PSP] Akiba's Trip (Acquire, 05.19.11): 9,222 (83,954)
08. [WII] Pandora's Tower (Nintendo, 05.26.11): 8,436 (29,881)
09. [PSP] Patapon 3 (SCEJ, 04.28.11): 7,018 (111,493)
10. [PS3] Nobunaga no Yabou Tendou with Power Up Kit (Koei, 05.26.11): 6,390 (21,846)
Hardware sales for the week can be found below, with last week's sales in parentheses
1. PSP: 30,155 (33,609)
2. 3DS: 27,357 (24,283)
3. PS3: 16,510 (15,987)
4. Wii: 6,315 (7,438)
5. DSi LL: 5,452 (5,197)
6. DSi: 5,187 (5,106)
7. X360: 2,499 (2,303)
8. PS2: 1,288 (1,274)
9. DS Lite: 138 (139)
10. PSP go: 62 (76)