The first three Dragon Quest games will be compiled on a single disc.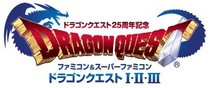 Dragon Quest I, II, and III will be compiled on a single Wii disc to celebrate the 25th anniversary of the series. The set will contain both the Famicom and Super Famicom versions of the games, and hits store shelves in Japan this September.
While none of the Super Famicom Dragon Quest games were previously released in North America, all of these games have been released in the region on the NES under the Dragon Warrior name.
No details have been given regarding a release outside of Japan.