Student-created games involve space, jellyfish, and a blob.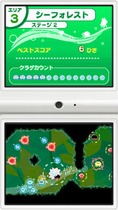 Four games selected as the best annual entries from the Nintendo Game Seminar are now available to download for a limited time - if you live in Japan.
The games are available through the Wii's Minna no Nintendo Channel, DS Station, and Nintendo Zone, with staggered releases. The seminar website encourages players to fill out surveys after they have played the game.
An outline of the four games, translated from the Seminar website, follows:
Planetaria
Pull and turn using an unseen power!
Use gravity to guide shooting stars across the sea of the universe.
Control is easy - just press where you want to create gravity.
Shooting stars will be pulled by that gravity and start to move.
Use the power of the shooting stars to return light to stars.
Fresh controls and a wide galaxy are awaiting you.
Minna no Nintendo Channel: April 13 - 26
DS Station: April 14 - 27
Nintendo Zone: April 15 - 27
The TENTAI Show
Save the universe with 2 screens!
Save planets from oncoming meteorites!
The universe is stretched across the 2 screens.
Controlling the black hole and white hole which work against each other, suck, spit and destroy the meteorites that are coming at the planet between the screens.
Minna no Nintendo Channel: April 27 - May 10
DS Station: April 28 - May 11
Nintendo Zone: April 28 - May 12
Pull Pull Pullpy
Touch and pull to the top!
Return Pullpy to the heavens by pulling him up!
Minna no Nintendo Channel: May 11 - 24
DS Station: May 12 - 25
Nintendo Zone: May 13 - 26

FloWooooT
You draw, I flow.
Using the touch pen to create flows, lead the jellyfish holding the prince's light and the other jellyfish to the goal.
Jellyfish are defeated if they touch an enemy.
Enemies all have their own characteristics, so plan carefully, and proceed while avoiding them
Minna no Nintendo Channel: May 25 - June 7
DS Station: May 26 - June 8
Nintendo Zone: May 27 - June 9