The top entries produced at the annual Nintendo Game Seminar will arrive soon.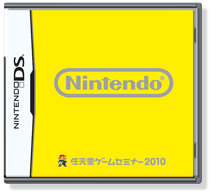 Four Nintendo DS titles, Planetaria, FloWoooot, The TENTAI-Show, and Pull Pull Pully, were deemed by Nintendo as the best games submitted from their annual Nintendo Game Seminar. Nintendo has applied for trademarks for the four names in Japan. The release of the games, however, has been delayed.
Each year, students have the opportunity to learn game development, including design, programming, and sound direction, through a ten-month program. The students split into groups to develop their own DS games. In previous years, Nintendo has released the top four games free of charge through the Nintendo Channel on Wii, DS Station, and Nintendo Zone.
The games, first revealed in the March 31 edition of Famitsu, were originally set for a staggered release beginning on March 16, but like many games in Japan, their debut has been delayed to an unspecified date.
In addition, the company filed for two other names, Virtual Platform and Pocket Monster Reburst. Pocket Monsters Reburst is a new manga series that was revealed earlier this month. Nothing is known about Virtual Platform.