Gamers now have one last chance to pick up Mario's anniversary compilation.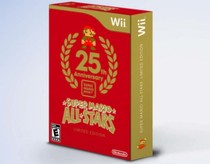 Super Mario All-Stars: Limited Edition was released on the Wii on December 12 last year and was sold out within days. Nintendo, aware of the situation, is preparing one final run of the game, due in stores on March 13.
The game includes four different retro Mario games: Super Mario Bros., Super Mario Bros.: The Lost Levels, Super Mario Bros. 2 and Super Mario Bros 3. Each game features updated graphics and sound from the SNES version of Super Mario All-Stars.
It also comes with a Super Mario History soundtrack CD, as well as a 32-page Super Mario History booklet. These two items can only be obtained through purchasing this limited edition package.
For those who missed the boat the first time, don't hesitate this time around. Nintendo has made it quite clear that this will be the final shipment of the game.