NIS America will be publishing the Pixel and Nicalis-developed 3DS game. UPDATED with video.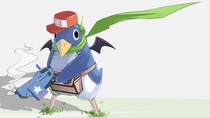 Cave Story, the critically-acclaimed indie title, will be coming to Nintendo 3DS, NIS America announced at a press event today. Cave Story, a Metroidvania-style game, was originally developed in 2004 by Daisuke "Pixel" Amaya as freeware for the PC and received a large cult following. Nicalis remade and published the game on WiiWare and DSiWare last year.
The game, though based on the original sprite-based version, uses fully rendered 3D models, including stereoscopic effects. Beautifully painted concept art versions of the original levels have been converted into 2.5D, and linear corridors are mapped onto curves.
NISA hinted at the game earlier in the week in a picture of their mascot Prinny (a penguin-like race from their Disgaea series of games) sporting signature garb and the Polar Star gun from Cave Story's main character, Quote.
Cave Story 3D is expected to release this summer. Check the gallery for concept art.
We had a chance to chat with Daisuke Amaya and Nicalis at the event, so stay tuned for more information, as well as an interview!