Rayman 3D among the European launch games.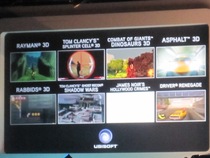 Ubisoft has announced release dates for some of their confirmed launch window Nintendo 3DS titles for Europe.
The four titles launching with the system on March 25 are Asphalt 3D, Rayman 3D, Tom Clancy's Ghost Recon: Shadow Wars, and Tom Clancy's Splinter Cell 3D.
Asphalt 3D is a racing title developed by Game Loft. Rayman 3D is a 3D version of Rayman 2, which was released on Dreamcast. Of the Tom Clancy titles, Shadow Wars is a turn-based tactics/strategy game played from a top-down perspective, and Splinter Cell 3D is a remake of Chaos Theory, the third game in the series.
A week later on April 1, two more games will follow. Rabbids 3D, which is a 2D platformer based on the Rabbids Travel Time games, and Combat of Giants: Dinosaurs 3D, the latest in the series Combat of Giants series.
Ubisoft confirmed eight titles for the 3DS launch window at Nintendo's conference yesterday.