The creator of Sonic gives us a new multiplatform title.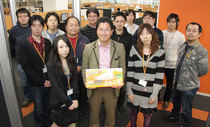 Prope, the studio headed by former Sega developer Yuji Naka, has long been known to be working on a new title with Kadokawa Games. In this week's Famitsu that title has been revealed to be Tenkuu no Kishi Rodea ("Rodea, Machinist of the Skies"), an action game coming to Wii and 3DS.
A collaboration between Naka and Takumi Miyajima (a writer who has worked on the Tales and Arc Rise Fantasia franchises), the title features a main character named Rodea along with other characters named Ion and Princess Cecilia.
The game has been in development since fall 2009 when another of Naka's projects was canceled.
The game features "simple controls". The Wii version controls using only the Wii Remote. Movement and aiming is done using the pointer, speed is controlled by shaking the remote or pressing B, and A fires. Controls for the 3DS version are currently unknown.
No release details for Tenkuu no Kishi Rodea are available at present.