The anniversary pack is finally announced for North America, coming this December.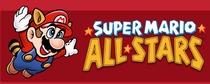 The special anniversary edition Super Mario All-Stars Limited Edition has finally been announced for the US and will be available on December 12 for $29.99. The contents are the same as the Japanese and European versions.
The game contains the SNES release of Super Mario All-Stars playable on Wii, with Super Mario Bros., Super Mario Bros.: The Lost Levels, Super Mario Bros. 2, and Super Mario Bros. 3, with support the Wii Remote, Classic Controller/Pro, and GameCube controller. In addition, the special box set includes a soundtrack CD featuring songs spanning Mario's 25 years of games, and a 32-page Super Mario History booklet.
The set will be sold for a limited time while stocks last.