The Super Mario All-Stars package will be released in Europe in December.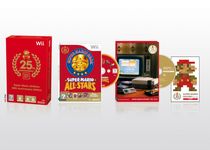 Yet another 25th Mario Anniversary-related annoucement today, with Super Mario All-Stars (known as Super Mario Collection in Japan) confirmed for European release on December 3, 2010.

The complete package as released in Japan, with Super Mario All-Stars for Wii, a booklet detailing Mario's history, and a soundtrack CD with tracks from 25 years of Mario games is included in the red box set. Pricing remains to be announced.