There are new Dragon Quest IX maps and a full roster of past and future releases.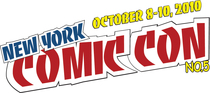 Nintendo is bringing eight games to New York Comic Con, which is taking place this weekend (October 8, 9, and 10) at the Jacob K. Javits Center in New York City.
Donkey Kong Country Returns, Kirby's Epic Yarn, Wii Party, and Metroid: Other M headline the Wii side of things, in addition to Activision's GoldenEye, which is the lone non-Nintendo-published title available.
On DS, players will be able to play Golden Sun: Dark Dawn, Mario vs. Donkey Kong: Mini-Land Mayhem!, and Dragon Quest IX.

Nintendo will also be bringing the Dragonlord and Mortamor downloadable maps for Dragon Quest IX. The Mortamor map was originally available at San Diego Comic-Con.