Nintendo is partnering with Japanese communications companies to bring connectivity.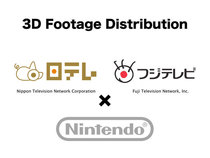 Along with the news of StreetPass, the 3DS version of Tag Mode, and SpotPass, which allows for automatically receiving updates from WiFi hotspots, Nintendo have announced partnerships to make these features more widely available.

SpotPass will download rankings, ghost data, new free software, notifications and information from a WiFi access point while the Nintendo 3DS is in sleep mode. Nintendo have partnered with NTT East and NTT West to give users access to their WiFine access points throughout Japan. Current DS kiosks in retailers will be converted to Nintendo Zones like those currently in McDonalds and other locations, giving even more WiFi access points.
Another collaboration with Fuji Television and Nippon Television will bring free 3D videos for SpotPass users. This will likely be a starting point for the launch of further 3D footage business on the 3DS.