The two new trademarks hint at possible future releases, one of which could be the follow-up to Wii Fit.
With E3 2009 a week away, two new Nintendo trademarks have appeared that may indicate what Nintendo will reveal at their press conference.

The first of these is Wii Fit Plus. While the sequel to Wii Fit has been rumored for a while now this is the first time concrete proof has been shown in the form of an English logo.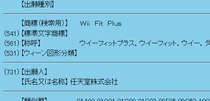 The second trademark is for Art Academy. There is currently no word on the specifics of the platform.. Rumors tie this game to being a new Mario Paint-inspired title.