A fresh direction for the SteamWorld universe is slowly sneaking upon us!
Right off the bat, I have to acknowledge the obvious fact that I've more seen of SteamWorld Quest than many others. Back in December, I was kindly invited to check out an earlier version of the game. While all of the ideas were in place, the developer has since been hard at work making tweaks to ensure a smoother experience. I instantly recognized that what I had played in the past was nowhere close to the product we have today. Now that I've had a second look at the game and looked back at what I discussed with Image & Form CEO Brjann Sigurgeirsson, I'm ready to give my thoughts.
From the early goings, SteamWorld Quest is my sort of gaming comfort food. Yes, those are somewhat dirty words, but that doesn't make it any less true. An RPG with cards as its main mechanic is almost too perfect for me, which I gleefully admit to. When I played through the opening moments on both occasions, I felt awfully relaxed while I played. Quest provided small areas to get through and interact, while offering all the card goodness I could possibly want.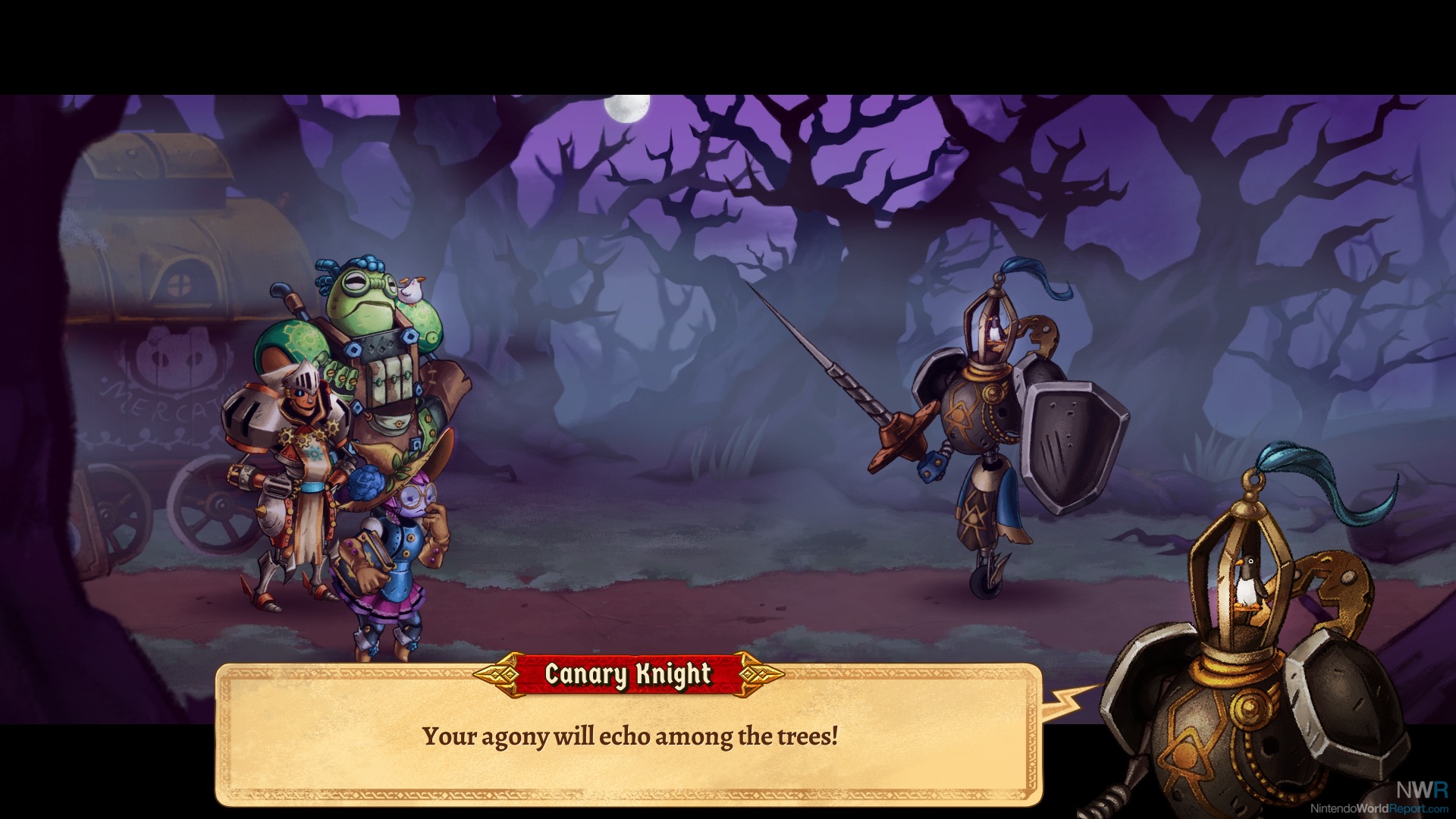 Exploring the small areas is the most straightforward part of the game. Usually there's something specifically waiting for you, which you have to deal with the best you can. That something can be enemies, boxes and chests, or the next part of the plot. While you see everything from the familiar side scrolling perspective, you can move in all four directions and enter specific passageways. For the quite a daring individual a number of optional paths are available if you want to fight a harsher enemy for more experience. The simple approach proves rather effective as the game never seems to drag on. Within moments, you get into the flow of the minute-to-minute action and never look back.
An element that has been largely improved over the original build is by adding constant rewards. Back in December, the majority of boxes were surprisingly empty with only chests offering additional trinkets. The overall flow was still entertaining, but very much slowed in an area or two. Now the money is more spread out, which might bring up the concern of balance, but that is something that remains to be seen. Futhermore, you can get stuff for going off the linear path. This is surely something that makes SteamWorld Quest simply enticing and tingles the senses.
Don't get me wrong, SteamWorld Quest thrives due its narrative design. The previous titles toyed with the idea, and came up with fine results. In particular, Dig 2 placed its story into intervals and this caused the action to find a balanced pace. Specifically, it gives the player a moment to breath before the next sequence of events begin to unfold. Gameplay is still very important to Quest, but it is pivoted in a different way. They try to compliment each other more, which I believe is the way to go. If you aren't competing in a string of battles, you're likely reading the hilarious dialogue.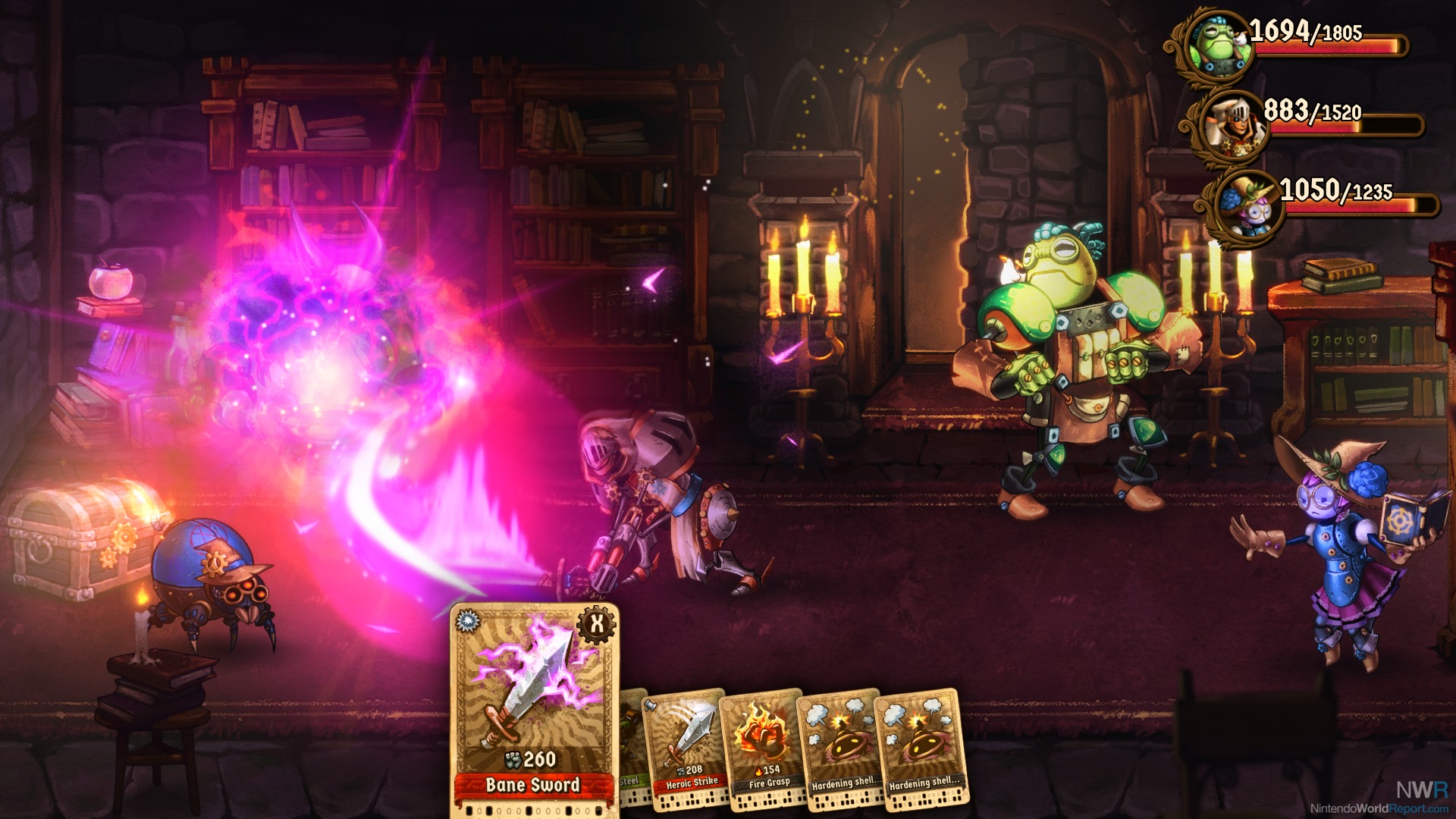 To put a smile on your face, the writer of the SteamWorld Heist hat descriptions has been put in charge of writing. Let me just say that this is one of the funniest slices I've played in a bit. Our ''hero'' constantly speaks in narrations, thinking that she has already achieved the top of the mountain. The lead tries so hard to become part of the guild that she enters a suicide mission to do it. All of her friends don't exactly take that in kind, and that tension is how the game further develops. One thing is for sure though, there is a bigger threat at play that I'm not 100% on. Not knowing is likely the biggest reason I'm still extremely curious how the entire game pans out.
On the flipside, an element that I'm completely certain on is the card battling. This is how you will engage with the enemies in the game, and there are so many little things to the process. For starters, each character gets a limited amount of cards on the pile and managing those is absolutely crucial. You see, an attack earns you a gear and gears are needed to activate better cards. It is important that you have a mixture of gear and non-gear cards so you can anticipate at the right moments. Additionally, stringing cards of the same color together allows you to add an extra card that has some brutal effects. What makes that extra card tick really depends on the ally.
In the demos I got to see, you have access to three characters. One focuses heavily on guarding and sword swipes, the other on magical shields and spells and finally we have the brute that can take a hit. What is important is that you put the focus on one character, while looking ahead at the next one. You will do this by putting cards together, and swap them out in limited instances. You can press the minus-button to check what a card does and go from there. Naturally, this won't always go your way, but once again it is something you have to anticipate. The gear system keeps you in check and ensures that you don't go in with all guns blazing. A mixture of offensive and defensive moves, as well as exploiting environmental weaknesses, is almost required to easily pull through. A deck of each character could only consist of eight cards, so you had to choose carefully.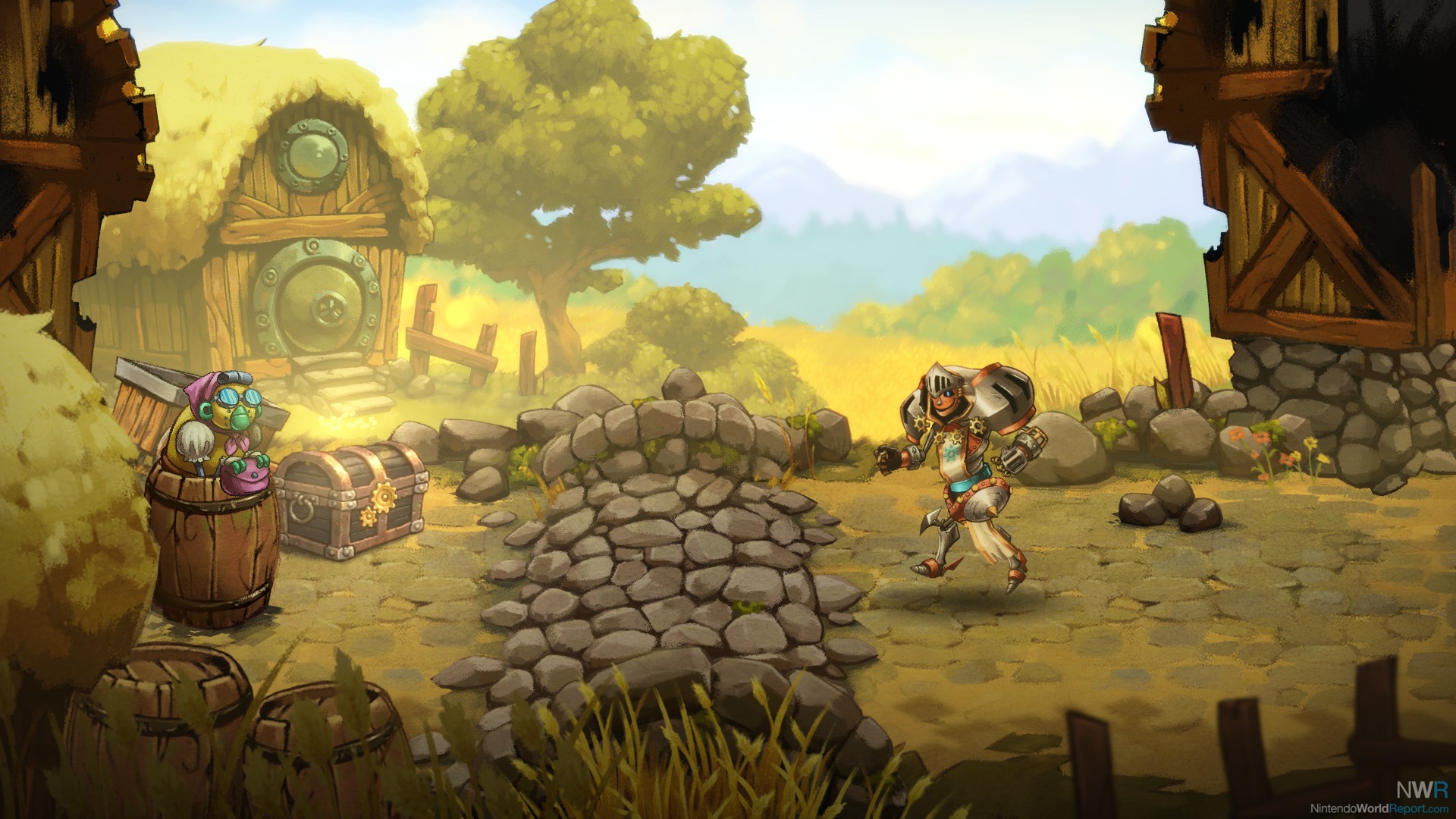 Even in a pinch you won't be completely lost. The characters do level up as you fight and they will be able to take more hits as an result. A number of accessories will assist your adventures, beefing your crew to the absolute max. The most important factor is recovery items. In the previous version, it wasn't possible to regain health outside of cards. Special items restore a select amount of hit points, which can be activated in the menu system. You even get a few in a very early stage in SteamWorld Quest, so that you have a back-up plan. In an earlier stage, it was extremely easy for an ally to die, leaving you scrambling for a statue. The Gilgamech statue will not save your game, but bring everybody back to full health. Right now, the attacks are equally balanced, ensuring that you can take some scratches. That being said, if you want the game to be unfair, you could always bump up the difficulty setting.
I could easily say a lot more but I feel the interview that you can find on both NWRTV and the eShop Action Committee feed covers most of it. What I really want to tell you is the following: SteamWorld Quest is shaping up quite well. While I initially thought that the game was extremely solid, it becomes better every time I see it. The card battling is becoming sharper, the worlds are more joyous to get through and the various mechanics are much more thought through. The balance remains somewhat of a concern, but I'm willing to give it some time. After all, the various difficulty sliders could easily change the way the title is played.