We get the scoop on the latest oddball communication game from Capcom.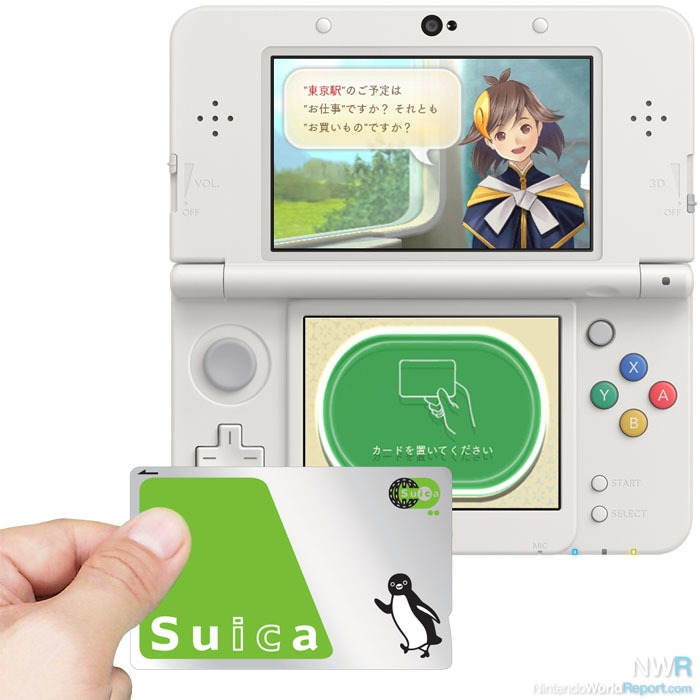 Megami Meguri kind of came out of nowhere on the last Nintendo Direct in Japan. Who would have thought that a mash up between Capcom and Toshiba would produce…well, this?! Ever since being announced, people all around the globe have been wondering what in the world Megami Meguri is all about. Thankfully, Capcom unveiled a lot of different things about the game on top of having it playable at TGS this year. Wait times were long, but fear not! I went ahead and braved the scary line to let you all know about what you can expect from Capcom's communication game.
The demo starts out with an explanation of what this whole game really boils down to. The short version of this is that basically players are tasked with teaching Tsukumo, a goddess in training that lives inside of their IC cards, how to talk and have conversations. To play along with the IC card theme, the entire layout of the booth was more or less a recreation of the inside of a Japanese train car. It was a nice touch and added to the overall charm of the experience.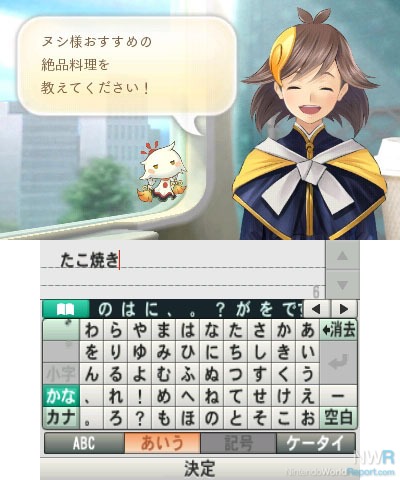 After going through quite a bit of dialog setting the situation up, you can teach Tsukumo your name, which she will say out loud in Japanese thanks to the artificial voice synthesis engine created by Capcom and Toshiba called the Megami Speak Engine. In the demo, you teach her a few other things such as your favorite food and how to say "thank you" and "good morning." After doing this, Tsukumo vocalizes what you taught her and retains the information for later use. For most of these instances, I put in what was suggested in Japanese, however, for the "thank you," I went ahead and put "thanks" in English. Tsukumo still pulled through offering a katakana-sounding version which came out as "sankyou."
The Megami Speak Engine makes for some pretty natural sounding dialog from Tsukumo. It's actually pretty impressive. Hearing my name spoken by the character and even its attempts to say what I wrote down in English was endearing. It's definitely not perfect, but it's a step up from what you've heard in things like Miitomo. Megami Meguri features voice acting for other characters throughout the game as well as light piano and acoustic guitar pieces that all fit quite well with the overall aesthetic of the game. All of this together just adds to the charm.
In the final version of the game, IC cards will be fully supported as will a virtual map of over 9,000 real world train stops found throughout Japan. For the demo, there was no support for the cards and instead of a huge map, there were just a few "stations" spread around on the bottom screen. For players to move along the tracks, a virtual die is rolled that determines how far down the line you will go. On certain spaces along the track, the demo allowed you to have more conversations about the things mentioned above—what food I like, how to say good morning, etc. When finally coming to the final "station" on the board, I had to go through some very simple word puzzles finding words like "IC Card" written amongst other Japanese words and characters. It wasn't super engaging, but finding the words quickly netted Tsukumo more attribute points.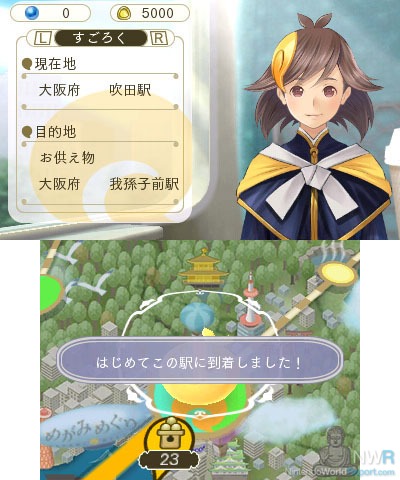 Visually, there isn't really much to Megami Meguri. The character models look quite nice placed against some pretty ho-hum backgrounds. The main environment used throughout the demo was inside of a train compartment, which is totally fine, but not going to blow you away.
After playing through the 20-minute demo on the show floor, I was left impressed with what I had seen. The voice synth tech works pretty well, the music and overall theme of teaching this goddess to speak was unique and charming. The fact that this game is going to be available as a free download on the 3DS eShop here in Japan (with options to pay real world money for in game items), it could be worth checking out the final build when it's released on December 8. For more on Megami Meguri and other games from Tokyo Game Show, be sure to check out the next episode of The Famicast!