A Box Boy sequel appeared on the Japanese eShop this week, continuing the puzzle platformer excellence and wonderfully silent story.
Note: Contains spoilers for Box Boy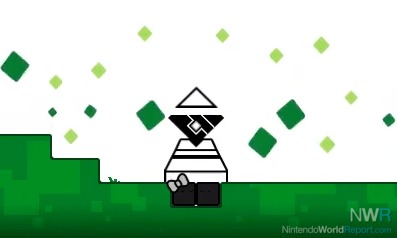 When I played through Box Boy last year, I was mesmerized by its fun puzzle platforming, but also pleasantly surprised by its effective wordless storytelling. As Qbby clears stages, he finds friends and progresses through a world filled with problems. To combat it all, Qbby and his friends have to sacrifice themselves, bringing color to the world in the process. After spending a bunch of time with the adorably animated characters, seeing them silently accept their fate and becoming inanimate to save the day was affecting. With Box Boy's sequel coming out in Japan, I assumed they'd probably just ignore the somber story thread a la Super Mario Galaxy to Galaxy 2.
Instead, the team at HAL Laboratory attacks it head on. The title screen is just the closing scene of the first game, and the adventure kicks off when Qbby is woken up from his still life by some weird floating diamond that gives him new powers. Soon, Qbby can create two sets of blocks, which opens up a variety of new puzzle opportunities that, 10 worlds in, are clever and engaging. It's a little more streamlined than the original, but Box Boy: Another Box (roughly translated from the Japanese title) still starts slow and gentle. At least for me, that's not a detriment. I'm not playing Box Boy exclusively for tough-as-nails puzzles; I'm playing it be amused and charmed, and Box Boy's sequel does just that through a minimalistic art style, adorable characters, and intriguing brainteasers.
If we're all lucky, hopefully the Box Boy sequel will release worldwide sooner rather than later, because, in my few hours of play, it has all of the fun of the original with some curious new twists.