Lloyd makes a return to the Tales series in the new 3DS strategy RPG.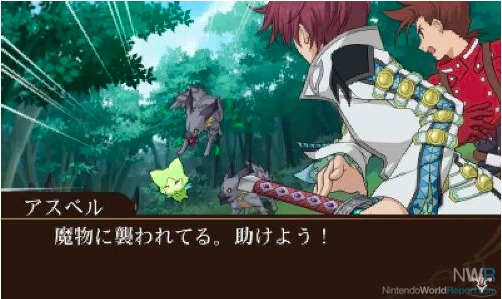 Fans of the Tales series might remember a little game that came out on the GameCube about a decade ago called Tales of Symphonia. Symphonia introduced the red clad Lloyd Irving and followed his journey to save his world, Sylvarant. Fast-forward back to 2014 where the Tales team has been hard at work crafting a new adventure on the Nintendo 3DS starring Lloyd and others in an unknown world with a variety of new characters. This time around, instead of an action/menu based battle system, Tales of the World: Reve Unitia makes use of a strategy/tactical RPG system for battles. The demo at Tokyo Game Show this year gives us a good look at both the battle system and some of the characters that will be making appearances in the game.
The presentation in Reve Unitia is top notch. The included anime cut scenes look crisp on the 3DS screen, and the entirety of the demo (the full game, too) is fully voiced. The demo actually offers two different scenarios, but for familiarity sake (for myself, at least), I went ahead and chose the scenario that featured Lloyd. It starts out by re-introducing Lloyd, who is suffering from a bad case of amnesia, temporarily causing him to forget his name and where he is. Throughout the lengthy opening cut scene, Lloyd eventually remembers who he is, and also comes across Asbel Rant, a character from Tales of Graces on Wii and PS3, who is suffering from the same ailment. After they both remember their respective names and introduce each other, they hear a nearby voice calling for help.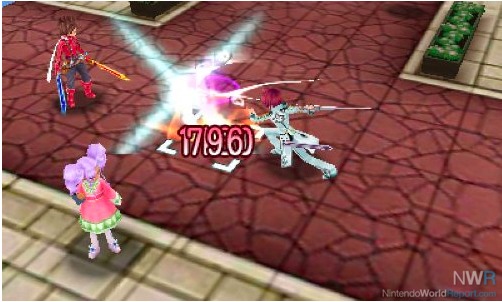 This enters us into the game's turn based, tactical battle system. The early parts of the demo had both Lloyd and Asbel squaring off against minor enemy characters and guided users on how to do basic physical and magic attacks. There's nothing groundbreaking here - guide your character within range of the enemy and choose your attack. Even though it's quite a bit different than Symphonia, it works well and was still fun to play. After playing through a few battles, the time ran out on the demo and I had to move on.
Tales of the World: Reve Unitia promises to have tons of returning characters from various Tales games all put together in the same world. The little bit that I got to play was enjoyable and the presentation was fantastic. The game is set to release on October 23 in Japan, but unfortunately, there is currently no release scheduled for the West. You can check out the promotional trailer for the game below.