The 3DS goes on an 8-bit rampage, read Curt's thoughts.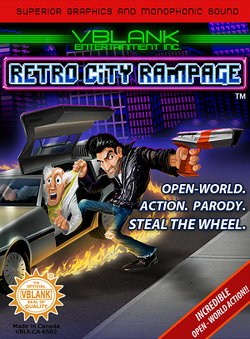 As much as I love the idea of Retro City Rampage, an 80's style 8-bit homage to Grand Theft Auto, playing the game on a TV was a hassle. The high resolution of the Playstation 3 release looked nice, but it was really hard to make out some of the finer details of the game such as text, enemies, NPCs, and other small annoyances. Brian Provinciano, the sole staffer of VBlank Entertainment, recently announced the game would be coming to the 3DS eShop, and had the game on display in Nintendo's Handheld Lounge at PAX. After playing it on a 3DS XL, I feel like the game finally found its perfect home.
The game plays exactly as it would on other platforms. It's a free-roaming sandbox game set in an 8-bit metropolis, and gives you the option of doing the game's missions to progress the story, or cause your own havoc by random carjacking, murder, getting involved in police chases and more. You can check out our review of the WiiWare version to get the full rundown of what the game has to offer.
The main point that I wanted to focus on was how playing it on a 3DS XL impacted my view on the game. It's no secret that the 3DS doesn't have a very high screen resolution, but I feel like that actually helps a game like RCR. Having a game that's supposed to look like it came out on an NES on a lower resolution screen made all the details I mentioned earlier stand out more. I was able to traverse through the city without issue, have a clearer sense of where my character was in action-packed situations, and pick up on details that I wasn't able to on the PS3 version of the game, since all the small characters and text are accommodated for the smaller resolution.
While I don't personally have a 3DS XL, it's a bit ironic that the game that actually makes me want upgrade is a game that looks like it came straight out of the 80's. Retro City Rampage will be releasing on the 3DS eShop this holiday season.