Here's another chance for Dr. Kawashima to make you feel like an idiot.
Tōhoku Daigaku Kareiigakukenkyūjo Kawashima Ryūta Kyōju Kanshū Monosugoku Nō o Kitareru 5 funkan no Oni Training, or just Oni Training for short, the latest title in the Brain Age series, was recently released in Japan. Similar to its predecessors, Oni Training puts players through a variety of different exercises to challenge their minds and hopefully build concentration and thinking skills. While the previous two Brain Age games on the Nintendo DS focused on keeping someone sharp and aimed to prevent the decline of brain functions due to aging, Oni Training focuses on "working memory" and attempts to engage the player to develop and improve it. While I spent quite a bit of time with the original title upon its release, this is my first time playing any game in the series in Japanese, which can be a challenge in itself in addition to the intended purpose of the game.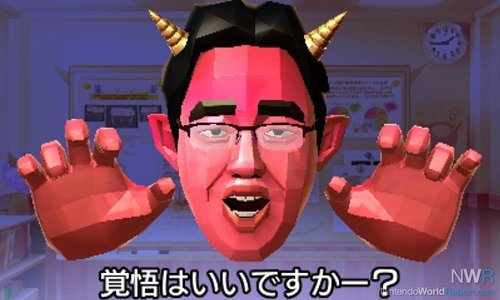 I reside in your nightmares...and your 3DS!
Since Oni Training's launch on July 28 in Japan, I have spent the past couple of days getting re-familiarized with the series and focusing on the new Oni Training exercises in the game. Oni, which literally means demon in English, is more of a way to explain how intense these exercises are compared to those of the past titles. Similar to the past Brain Age games, activities are unlocked as players put more and more time into the game. Each of the Oni Training exercises is limited to five minutes of play per day. One of the first Oni Training exercises was something called Oni Keisan (Oni Calculation), which gives you a simple math problem to solve. The catch is that you are not answering the problem directly in front of you—you are answering the question that came before it, which is no longer viewable. Players have to rely on their memory and concentration skills to answer. If a player can get 85 percent or more of the questions correct, they move on to higher difficulty level. If they score under 85 percent but over 65 percent, they continue at the same level. Score below 65 percent, and the player goes down a level. Oni Calculation was easy enough, as you just have to basically remember two different numbers, but I started having problems when I had to answer questions that were two back instead of just one. It might sound simple, but having to remember three different numbers while trying to go as fast as possible can be pretty tough, and sometimes left me feeling a little foolish afterward.
I spent time with two other Oni Training segments. The first, called Oni Mekuri, has the player matching number cards. For example, the game starts by showing you nine cards face down. Using the touch screen, you select two cards and try to match those that are the same number. It's a simple game many of us probably played as children, but as more cards come into play, the difficulty ramps up. The rules for progress are the same in this game as they are with the Oni Calculation game mentioned above. The game's simplicity is an advantage, as it makes it seem less daunting than the Oni Calculation activity can be.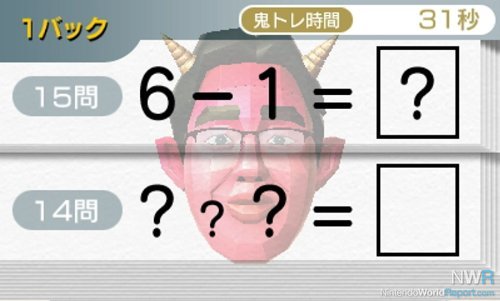 Oni Calculation
The last Oni Training game that I played is called Oni Nezumi, or Oni Mouse. The initial game started by showing two different mice mixed in with 10 cats, which in total came to 12 spaces in a three-by-four grid filled with animals. The idea is that you have to keep an eye on where the mice are in the grid. When the game actually starts, the cats and mice are both covered up with question boxes, and it is your job to try to keep track of where the mice scurry. Cats and mice come from the top, bottom, left, and right, sometimes pushing the mice out of the grid entirely. When that happens, they enter the grid from another area. After about 25 seconds of movement, the grid moves from the upper screen to the lower screen and you have to select where the mice are. As the game gets more difficult, faster movement and more mice come into the picture to provide the player with more of a challenge.
Oni Training is obviously not the kind of game somebody blows through in a weekend and then shelves. It is intended for play over a long period of time so you can make and see progress. There are several other modes on top of the exercises I mentioned above. There is a subsidiary training mode intended to accelerate your working memory, brain training exercises similar to those of previous titles to keep the player sharp, and a relaxation mode containing a variety of puzzles (including a Dr. Mario clone and a remake of Wario's Woods). Players will also find 106 different in-game achievements and several mini lectures from Dr. Kawashima about the brain.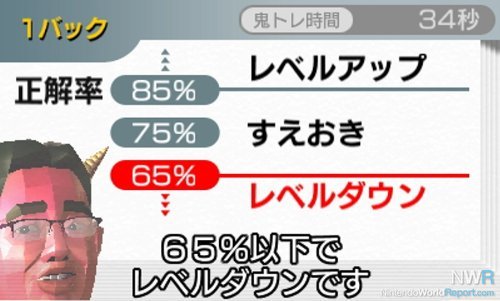 Don't be stupid. Stay above 65%!
At this point, we have no idea when this game is going to receive localization. Even if it does, I really don't know what the localization teams will do with the whole "demon" aspect of the game either. Regardless of these uncertainties, Oni Training breaths a bit of fresh air into the "edutainment" market the series helped create. This is definitely a title to look for when and if it comes to your region.