Kirby's Dream Collection features a factoid on Barack Obama. For real.
Kirby is the latest Nintendo franchise to get the glamorous anniversary treatment and I was able to put some quality time into Kirby's Dream Collection. The demo opened with three sections to choose from: a challenge mode, a history of Kirby, and Kirby's classic games.
The 6 games listed were:
Kirby's Dream Land (Game Boy)
Kirby's Adventure (NES)
Kirby's Dream Land 2 (Game Boy)
Kirby Super Star (SNES)
Kirby's Dream Land 3 (SNES)
Kirby 64: The Crystal Shards (N64)
Highlighting each of the games will show the amount of players available, with Kirby Super Star, Kirby's Dream Land 3 and Kirby 64 being the only multiplayer options. Unlike Kirby Super Star and Kirby's Dream Land 3, which feature two-player co-op, Kirby 64 does not support co-op play. It is labeled as four players but as I had to inform people who were there playing for the first time, it's nothing like Kirby's Return to Dream Land. The four-player multiplayer is only for mini-games.
Each game is played with the Wii Remote sideways using only the D-Pad and buttons for a classic and responsive play through. Each game plays as smoothly as you remember, with classic Kirby gameplay consisting of inhaling enemies, taking their powers or spitting them out as you make your way through Dream Land. There are also Kirby-themed borders that line the television screen for each of the six classic games. It was very reminiscent of the ones seen when playing games on the Super Game Boy.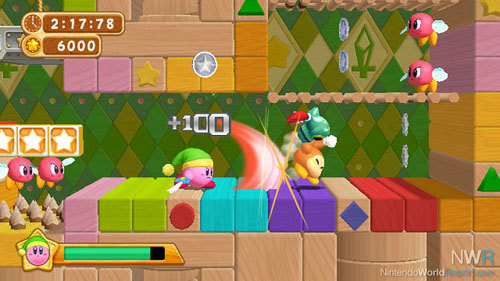 The Challenge Mode was a lot more interesting than I had initially expected. Upon starting, I was given the choice between parasol, sword, and bird challenges. Each power-up is stuck with Kirby regardless of how much he is attacked, and each stage is built solely for that power. The stages gave a time limit of three minutes with the goal to attain as many coins as possible before you reach the exit. Coins are gained by grabbing them right in the open, defeating enemies, and using the special abilities to reach the trickier spots. Once you reach the exit, you are awarded a gold, silver, or bronze rating with the option to view pro tips. Finishing a challenge lands Kirby into a typical Kirby-styled hub with locked and unlocked doors. Completing the challenges unlock a room I was unfortunately unable to see. The other challenges I saw being played were spark, fight, whip, and racing as normal Kirby. It was unclear if the challenges unlocked anything else within the game.
The most interesting part of the 25th Anniversary collection was definitely Kirby's History. Every Kirby game ever made is showcased in a 3D museum along with 2D statues of Kirby's enemies. Controlling Kirby allows him to run up and down the museum inhaling the game of your choice. Each game is listed with the year it was released, the original American box art (viewable at all angles), and a short trailer with a text description of the chosen game. Not only that, but along with Kirby specific facts, general Nintendo facts are stated, as well as random world facts such as "2008 - Barack Obama was elected President of the United States." There were quite a few of these and to say the least, they were interesting.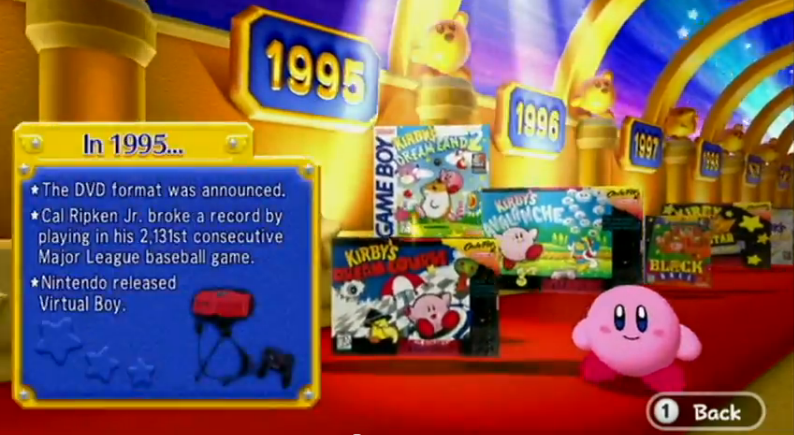 I then discovered a live action performance of musicians performing Gourmet Race that transitioned into Green Greens. It was beautiful. If that weren't enough, I stumbled upon three full episodes of the animated television show, Kirby Right Back At Ya! Episodes 1, 60, and 72 were there in their entirety.
Just after I finished, I was told the game will come with a book! What kind of book I was not able to find out, though. I can only imagine it will be a nice piece of memorabilia fans will appreciate. With the book, we will also get a 45-track CD containing various Kirby music from the last 20 years! After today, Kirby's Dream Collection is a must buy for me.
Kirby's Dream Collection comes out in North America on September 16.