HEY EVERYBODY, IT'S RIIIIIDGE RACER!
One of the demos available for the 3DS was a version of Namco Bandai's Ridge Racer series.
As a Ridge Racer title it felt fast, and sliding was a constant. The A Button accelerated and the B Button braked. The Slide Pad controlled the car as it careened around a long and windy track.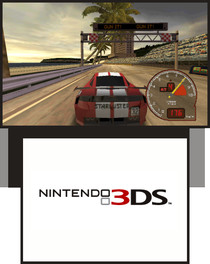 Of course, the demo is there to show the 3D effect. The effect made it seem as if the car was moving into the background. Once the 3D Depth Slider was calibrated properly it produced a compelling effect.
The game seems far along, and is probably a strong candidate for a launch title when the 3DS launches.