Also: No Stairway.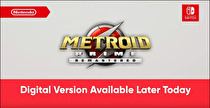 #5: Collection of Mana
Launch: June 2019 Nintendo Direct
The collection of the first three Mana games launched in 2017 in Japan, and it seemed like a natural release outside Japan, but it became a symbol of "this will never get localized" - after all, it had Seiken Densetsu 3 on it, and surely they wouldn't go to the trouble of localizing it, right? Well, with a little help from Nintendo who had a ROM of a localized version in their archives, it dropped at E3 2019 and immediately made us fall in love with Flammie all over again.
The collection was the preamble to a full-on remake of SDIII - now known as Trials of Mana - which turned out pretty well. And it had a neat curiosity in the original Mana / Final Fantasy Adventure for you preservationists, and also reminded us of the valuable lesson "Believe in Santa Claus or he'll turn into a Frost Gigas and start kidnapping people". Now, if only we could figure out why the Final Fantasy LEGEND games got compiled.
---
#4: Axiom Verge 2
Launch: August 2021 Indie World
Of all the presentations we checked for this one, the August 2021 Indie World show holds the record for the most drops in one day with seven - tied with the prior August. (Never let this happen again, Nintendo.) Though The Discourse (™) glommed onto Boyfriend Dungeon and wouldn't let go, and Necrobarista was a neat take on the bartending adventure game, Axiom Verge 2 ended up being the best of the group. Not bad for a game in a series someone from this site had to shame a Nintendo executive to get behind.
The original Axiom Verge adopted the style of the original Metroid but created an adventure all its own; Axiom Verge 2 took the same steps with Super Metroid, and in the process managed to look like what you picture Super Metroid looking like. With new characters and a tight story that still managed to connect to the original even with a new player character, it's almost like there's something to these exploration-based platformers.
---
#3: Hollow Knight
Launch: June 2018 Nintendo Direct
Speak of the devil. The Australian Kickstarter success story may have been the second of the E3 2018 shadowdrops in terms of importance at the time, but you don't see people clamoring for the next season of Fortnite to appear in every single Nintendo Direct or Indie World the way people call for Hollow Knight: Silksong. (Remember: No Silksong. The GamePass deal said so.)
A dark, moody, exploration-based platformer, it frequently requires superhuman timing in order to see everything. I've seen people going for the true ending in this game, and I eventually had to ask "is this worth it?", only for them to grit their teeth and embark on one more attempt at that !#*(ing mantis monster. The world of Hollow Knight might give you gray hairs, but it's a place you'll be thinking about long after you find the last bug.
---
#2: Tetris 99
Launch: February 2019 Nintendo Direct
Tetris has always been a sneaky-good multiplayer PvP game, but I don't think anyone expected that combining the game with the then-hot battle royale genre would create possibly the most beloved 99 player game since… well, Fortnite. It made for a busy night when it came out as people tried to figure out the strategies and unlock the cosmetics, and then it kept going - as any game tied to a Nintendo Switch Online subscription should.
Whether it was the frequent "Maximus Cups" that added new themes including the mandatory one based on the original Game Boy Tetris, the "Big Blocks" DLC that added things including a revolutionary concept called "Marathon Mode" or getting all of the people with one win under their belts an exclusive place to beat the snot out of me, Tetris 99 is still going strong. Heck, I half expect an Advance Wars theme to be announced soon, and how awkward would that be?
---
#1: Hades
Launch: September 2020 Partner Showcase
2020 looks weird NOW, imagine what a few more years of retrospect will bring. Why did Nintendo use the "Partner Showcase" direct Mini format in 2020 and nowhere else until a one-off in 2022? Why did Nintendo go almost four months without a first party release? And most importantly, how did a noted roguelike hater give a roguelike their Game of the Year in 2020? Well, when that game is Hades… I wasn't alone. Hades won our final nine voting by a mile.
Supergiant Games has only released 4.5 games as of now (if you count the Early Access of Hades 2 as a half), with two of them being beloved RPGs and even their black sheep Pyre being seen as an interesting oddity. Hades has the right mix of humor, neat twists on existing characters, and fun combat to create the game that does for roguelikes what Xenoblade Chronicles X did for open world games; made the rest of them look strange by comparison. Here's hoping that the sequel can be as innovative and fun as the original.
Honorable Mentions: Into the Breach (August 2019 Nindies Showcase), A Short Hike, Manifold Garden*, Spiritfarer (August 2020 Indie World), Part-Time UFO (October 2020 Partner Showcase), Castlevania Advance Collection (September 2021 Nintendo Direct)
* Nintendo World Report contributor Syrenne McNulty was a producer on Manifold Garden