How about we call this episode a preview of a possible Switch game.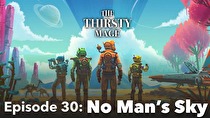 Don't tell NWR management that The Thirsty Mage is again discussing a game that cannot currently be played on a Nintendo platform. We discuss the history of No Man's Sky and what the game looks like today.
At the pub this episode is David Lloyd, Jordan Rudek, and NWR Site Director: John Rairdin.