Audio for a small space when headphones just aren't cutting it.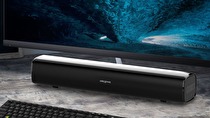 The portability of the Switch allows for a myriad of creative ways to enjoy your favorite Nintendo franchises whether it's at home on a big screen tv or in your dorm on a PC monitor. For those who choose the latter, a PC monitor with an HDMI-input provides a beautiful and vibrant display with the caveat of a reduced audio experience. Since most monitors don't include onboard audio, a typical solution would require a set of headphones and depending on your proximity to the Switch, potentially a cord extension. For a solution that doesn't tether you physically to the Switch, the audio wizards at Creative have an affordable soundbar/subwoofer combination that may fit your needs. The Creative Stage is a budget speaker system that's a terrific option for decent sound in a smaller space - a great fit for dorms or small offices alike.
Creative Sound is a name that's identifiable in the PC space, but they've also been building a niche in the console world as well with products such as headphones and a gaming DAC that I've recommended in the past. The Creative Stage is a decent speaker system, albeit with a much more niche usage than their previous products. My main usage was acting as the source of sound when playing Switch on my PC monitor. The Switch provided the video to the screen via the HDMI cord, and the Creative Stage connected to the Switch via the 3.5mm cable.
The sound quality is adequate. As budget speakers, they get the job done and provide decent sound with a good amount of base, but begin to lose clarity when you want to really increase the volume. An included remote means you don't need to get out of your seat to change the volume or play with the settings which is a nice quality-of-life inclusion. The soundbar and subwoofer are both fairly small and can easily fit on a desktop and can be tucked neatly below a desk, though a prohibitively short power cord on the soundbar does restrict the placement. As a comparison, the Switch AC adaptor is measured at slightly over 5 feet long, where as the Stage power cord is a measly 4 feet long. The sound bar does come with a mounting bracket though which could compensate for the reduced cord length.
Some additional features include Bluetooth connection for times you'd like to play some sweet Square Enix soundtracks off your phone, and preset EQ settings to avoid constant fiddling with the treble and bass. As a PC gamer, my hope was that I could also connect the Stage to my PC via a USB connection but unfortunately the only option was through the 3.5mm cable. The sound quality was fine but having to remove the cord and locate the connection on the back of my PC was a hassle whenever I changed platforms.
While my overall impressions weren't as overly positive as previous Creative products, I would still overall recommend the Creative Stage for specific usages. This is a speaker system suited best in a small room when you'd like to have some distance from the playing screen. It's not a replacement for an existing surround sound setup that you may already have, but it's definitely an improvement over a pair of headphones, especially during long hours of play.