Thank you so much for to playing my game!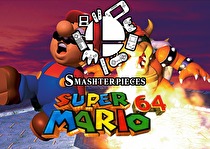 Presented by Anonymous Dinosaur and Nintendo World Report, this is Smashterpieces - a casual walk through the history of the Super Smash Bros. Ultimate Roster. On this show, hosts Joe DeVader and Matt Zawodniak are playing one game for every fighter in the newest Super Smash Bros. game, from 1984's Duck Hunt to 2017's The Legend of Zelda: Breath of the Wild. Each game will be live-streamed by both of us, and then we'll convene to talk about it on the podcast.
Your new look might be because we've finally made our way into the third dimension with Smashterpiece #19, Super Mario 64. Join us, alongside NWR's Jordan Rudek, as we discuss what may well be the most influential and historically significant video game ever made, one that wrote the book on 3D gaming and launched the industry into the future. What are some things about the game we think didn't age so well? What are our favorite and least favorite worlds to explore? Why do we keep mentioning Croc? All this and more in today's episode!
Join us next time as we begin our journey to save the lifestream in Smashterpiece #20: Final Fantasy VII.
You can find previous episodes at Anonymous Dinosaur's website!
Our list of games can be found here!
You can watch Joe stream here! Matt will be streaming Final Fantasy VII on NWR's Twitch Channel.
Peter Spezia assisted with the editing for this episode.