The pub has waited long enough to discuss the first Fire Emblem on Switch.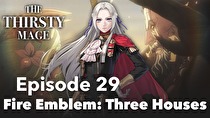 It's been over a month since the release of Fire Emblem: Three Houses and it's been the topic of discussion at The Thirsty Mage ever since.
At the pub this episode is David Lloyd, Jordan Rudek, and first time patron and Fire Emblem fan: Matt Zawodniak.