The Final Fantasy VIII release announcement brought back a flood of memories.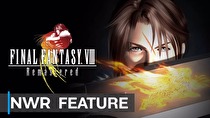 We all have that coming of age story that we can never forget. At some point between our late teens and early twenties, some form of media comes along and speaks to our individual experiences. It could be a novel that understands your pain and lets you know you're not alone. Maybe you discover a band whose emotion you can feel in their music and keeps you company during the bad and the good. My story is about Final Fantasy VIII. A video game that I discovered at the crossroads of my life and helped shape the person who I am today.
I've been a gamer ever since Santa was kind enough to bring me a Nintendo for Christmas at a young age. I was a pretty independent child, and video games were a terrific medium to connect with my family. On weekends, I bonded with my much younger cousins at their house playing NHL Stanley Cup on their Super Nintendo. Sundays at Grandma's were always fun because she had an Atari with all the best classics. I had an especially close family, and video games at times could both be a way to bond, or at other times, escape when needed.
After graduating from high school, all of my friends left my hometown to attend college or university. I was one of the very few that remained at home, living with my parents while working on my degree. Staying home was never an issue, but I became distant with my family while I longed to start the next phase of my life. Luckily, the one thing that kept my much younger brother and I close was our love for video games. With my friends gone, we spent hours together on our Nintendo 64 and PlayStation, endlessly trying to one-up each other in proximity mine GoldenEye matches.
It was during this time that Final Fantasy VIII entered our lives. It hit me like a freight train, everything about it just spoke to what I was going through and feeling. Squall seemed just like me. He was the loner trying to get through school, unconcerned with making friends or building relationships. He was strong and stubborn, but in the end he understood that needed his friends and family to succeed. My brother and I spent countless hours playing it together. We enjoyed finding ways to break the battle system and became way too excited when we discovered a Guardian Force. It was one of the last games I would play with my brother before moving on to the next phase in my life, when I would go on my first date with the woman that would eventually become my wife.
My wife and I knew each other from high school, but it was during our second year of university that we began dating. The time I used to spend playing video games, I was now spending talking to my wife online while she attended school in another city. I, of course was still playing Final Fantasy VIII at this point, but my relationship with my brother wasn't the same. By the end of second year I couldn't stand being away from my future wife, so on a whim I left my family behind and transferred to the school where she was attending. I don't regret my decision, but I do lament leaving my brother while he was at such a young age.
Final Fantasy VIII is more than a game to me. It's the last memory I have living at home with my family, it's what came with me when I moved to a strange new city. It was there when I had to leave my brother, but it was also there when I began living with my wife. Its themes and aesthetics left a lasting impression on my soul. On more than one occasion my wife has had to talk me out of buying a leather jacket with a fur collar.
Final Fantasy VIII may not be the greatest game ever made, but it was there when I needed it. My brother and I may be living in different cities with wives and children of our own, but our bond remains strong because of our connection to video games. We could go weeks without talking, but we never have a shortage of new announcements to discuss or old memories to reminisce over. When Final Fantasy VIII finally makes it way to Switch in September, I know two guys who are going to feel like kids again.
Did you have a coming of age title that you hold dear to this day? Let us know in the comments below what it was and what it means to you.