Still finding ways to cover Final Fantasy titles at the pub.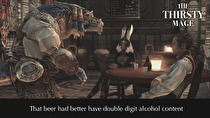 Apparently we are not done talking about Final Fantasy games yet. On this episode, the pub has a discussion about the Final Fantasy XII port to Switch.
David is joined by Jordan and Casey and this time, Jordan actually orders a drink from the bar.
The Thirsty Mage theme song created by the one and only, Perry Burkum.