Nothing like a refreshing pint from a cold Nordic cave to kick off the summer.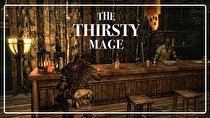 Not sure there's been a better location to drink some beer on a hot summer evening than the beautifully expansive world of Skyrim.
NWR Site Director John Rairdin makes his Thirsty Mage debut along with David and Jordan for an episode discussing the Bethesda hit.