The pub had quite a hard time fitting in all of Mitsuda's vocalists.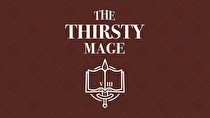 The Thirsty Mage has its first ever concert in the pub.
David, Casey, Jordan, and James all share our favourite songs and we try to cram in the 100 or so vocalists needed to play most of Mitsuda's songs.
The Thirsty Mage theme song is from the great Perry Burkum.