A decent sounding pair of headphones with premium comfort.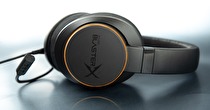 The portability of the Nintendo Switch has ushered in a new era of comfort that I never realized I needed. Two years ago, I never would have foreseen just how much of my time I would be gaming in handheld mode, and just how much I would prefer the freedom of movement and comfort over sitting in front of my TV. As with all things in life, this new freedom has some drawbacks, and for me, that means finding a good pair of earbuds or headphones to make sure I'm not missing out on an important part of the experience. I've always opted for earbuds to get me through extended playthroughs, that is until I tried out what is easily the most comfortable pair of headphones I've ever worn.
As a more casual audiophile, I tend to rank my audio experiences into three categories: subpar, decent, and premium. Equipment that provides a premium experience has always been priced above my budget for audio, so most of my time is spent in the subpar to decent spectrum. So on this spectrum, where does the Creative Sound Blaster H6 Headphones fall? Well, I would place it somewhere in the mid-to-decent range. For mid-tier cost headphones, the audio does get the job done, but it falls a bit short on top end sound.
The clarity of each individual sound is noteworthy, and the virtual surround feature works as advertised, but when compared to a more premium-priced headset, a little bit of hollowness is perceivable. The H6 headphones include an ambient sound feature that turns on built in microphones that pick up sound and merge it with your gameplay. It's a feature that I thought could be useful in situations where I would like to be aware of my surroundings, but unfortunately when activated a low hum can be heard even in absolute silence. Another shortfall is that the microphones can only be turned on when connected via USB cable to the Switch dock, so my grand vision of using this feature on the bus or at the library was quickly dashed.
What stood out most about the Creative Sound H6 headphones is just how comfortable they are on top of my head. Premium cups made from memory foam perfectly encapsulate my ears, putting minimal pressure on the side of my head. The fabric utilized is a breathable mesh, so when stress begins to ensue in a heated Tetris 99 match, I didn't find my ears becoming hot and uncomfortable. The frame feels solid and durable, and after a month of intense usage they still feel as new as they day I got them.
The list of available options in the mid-tier headphones market is very large. A quick search on Amazon will no doubt bring up hundreds of different options—usually with comparable audio experiences. What's not comparable about the Creative Sound H6 headphones is just how comfortable they are to wear. By floating above my ears and allowing them to breath, I can play Breath of the Wild as long as I want without becoming uncomfortable, and as many of us know, completing one more shrine is what really counts.
A pair of Creative Sound Blaster H6 Headphones were provided by Creative for review purposes.