Starting off the new year the way the previous began, with a Takahashi developed title.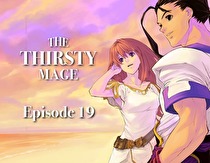 The Thirsty Mage starts off its second year the same way we launched the pod, with a deep look into a Tetsuya Takahashi game. David, Jordan, and Neal all dipped into our PlayStation collection to play the first Xeno title written by Takahashi when he worked at Square: Xenogears.
After our analysis we have some fun with Final Fantasy ranked lists and talk about what episodes to look forward to in our second year.
Thirsty Mage theme song written by the great Perry Burkum.