We should have known there would be too many Bethesda based questions.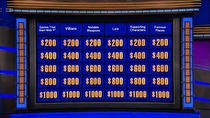 We tried really hard to make an RPG themed episode of Jeopardy but things went south after David volunteered to create the questions.
Make sure to play along at home and keep score so that you can post your results in the comments below.
The panel tonight consists of David Lloyd, Jordan Rudek, Donald Theriault and Casey Gibson.