Our own Nintendo collector Justin Berube hit up the big toy show to see what Nintendo goods he could find.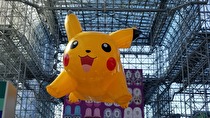 Once again I was able to attend New York Toy Fair. For those that don't know, Toy Fair is basically the E3 for toys. With Nintendo continuing the strategy of expanding their IP awareness it shouldn't be a shock to anyone to see several companies on the show floor that hold the Nintendo license.
As one of Nintendo World Report's biggest Nintendo merchandise collectors it only seems fitting that I was the one who ran around like a maniac for a day trying to take pictures of as much stuff on display as possible. So check out each company listed alphabetically and see what's coming or in some cases is already available. Enjoy!