After a few upsets, Ultimate's first Supermajor crowns its winner.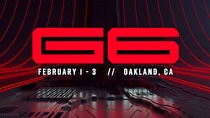 This weekend was Super Smash Bros. Ultimate's big debut at the Genesis 6 Supermajor tournament, proving the young platform fighting game can live up to the legacy set by its precursors. None of the players I said to keep an eye on ended up making it into Top 8, but I did focus on their stories going in more than their actual chances of winning.
The French penguin Glutonny tied for 17th place proving that him and the rest of Europe could keep up with America's top talent. The #1 seeded Tweek lost in one of the biggest upsets of the tournament as the 17th seeded ESAM (a personal favorite of mine) sent him to the losers bracket to ultimately fall just short of Top 8 with a 9th place finish. Leffen impressed with the most incredible Pokémon Trainer plays the world had ever seen before being sent to losers by the man who would go on to win the whole tournament. Salem ended up tying for 13th place (only one spot ahead of Leffen's 17th) and promptly took to social media to downplay Leffen's achievements, decrying the Swedish player as a "one-trick" who coasted through the bracket against weaker players. Given Leffen is a pro player in Melee, Dragon Ball FighterZ, and Ultimate while maining the only character in Ultimate to have multiple distinct movesets, fans aren't really certain what Leffen's "one trick" is supposed to be.
Tweek wasn't the only top player to suffer an upset; the #2 seed Nairo (a former Smash 4 player who our own Jared Rosenberg nearly defeated at a preview event in November) was knocked into losers by the 18th seeded Cosmos and was eventually eliminated by Evo 2018 Smash 4 runner-up CaptainZack. Cosmos and ESAM breaking into Top 8 was a big win for their sponsor Panda Global. Panda Global was the only team with two players in Top 8, and Cosmos and ESAM were also the only players in Top 8 who were seeded below #8. Unfortunately they were both knocked out in the first round of losers, but tying for 7th in a tournament of thousands is no small feat.
The most astonishing success story of Top 8 was the international debut of Zackray, a Japanese player who had been dominating in his home country. Despite his #4 seed, fans weren't sure what to expect of the 15-year-old Wolf main who had never competed outside of Japan. This air of mystery was to Zackray's advantage; since Japanese players are isolated from the western Smash community due to a language barrier and the high cost of travel, the Japanese metagame tends to develop differently from its western counterpart.
Zackray's playstyle was more patient than the aggressive style other competitors put on, and by mainly reacting to what his opponents were doing he was able to throw his older peers off their balance. In the end he landed in 5th place and won a tiebreaker match against fellow 5th-place finisher Light, qualifying for the invite-only tournament Smash Summit in March. With his young age and impressive western debut, there's no doubt Zackray is going to be a force to be reckoned with in the years to come.
The first place prize would ultimately go to the 18-year-old Mexican player MKLeo, pulling off his third consecutive Genesis win. MKLeo finished Smash 4's run ranked 3rd in the world and held the highest seed of all the Top 8 players at Genesis 6, but that doesn't mean his victory was easy. Leo spent the majority of the tournament playing Ike - a slow, heavy-hitting character who struggled in previous Smash games due to long periods of lag after his attacks. Ike received a huge buff to mobility in Ultimate allowing him to succeed in tournament play, and MKLeo showed the world how it's done with a decisive climb to Top 8 only dropping two games along the way against Leffen and fellow Top 8 qualifier Dabuz.
Leo opened Top 8 with an exciting set against Samsora's Peach. Despite his early dominance, Leo couldn't manage to best Samsora's quick adaptation to Ike, and Peach's counter with Toad turned out to be too much for him. In the loser's bracket Leo went up against Light, the Fox player who had previously knocked him into losers at Glitch 6. Knowing that his Ike had trouble keeping up with faster characters like Fox, Leo switched characters for the first time in the tournament to the Lucina - the echo fighter of his Smash 4 main, Marth. The speed and technical skill of MKLeo and Light was reminiscent of Melee - given Fox and Marth were two top-tier characters in Melee, it seems the more things change the more they stay the same. After a rough start, Leo ended up pushing Light to a two-stock defeat in Game 5.
After a semi-finals victory against Dabuz, Losers Finals was a rematch between Leo and Samsora, who had lost in Winners Finals. Despite his earlier defeat, MKLeo brought Ike back out to fight Samsora's Peach on the same level as before. Despite a Game 1 loss putting him at a disadvantage, Leo turned up the heat and showed Samsora just how scary Ike's aether recovery could be. Leo earned his redemption, knocking Samsora out of the tournament and advancing to Grand Finals against VoiD, the man who knocked Samsora into losers in the first place.
Going into Grand Finals from the losers bracket is a big disadvantage. Since Smash tournaments are double elimination, the finalist from the winners bracket effectively has an extra life in Grand Finals. The losers finalist must win two consecutive sets in Grand Finals in order to take the tournament, but the winners finalist only needs to win one set.
Leo opted to switch to Lucina once again; VoiD is a Pichu main, and with high combo potential and high mobility, Pichu is considered to be one of the best characters in the game. (Yes, really.) The 8-game Grand Finals was one of the most exciting matches in Ultimate's history, full of shield breakers, parries, and bold use of Pichu's Agility. Pichu's excellent combos put the pressure on Leo, but Leo's comeback game turned out to be too strong, leading to two decisive 3-1 wins against VoiD to take the whole tournament. If you only watch one match from the whole tournament, make sure you watch this one.
With MKLeo's hat trick in the bag, Ultimate's first Supermajor came to a close. Although Grand Finals unfortunately only had about 100,000 viewers due to the tournament running past 3am on the east coast, viewership peaked in the Winners Semi-Finals match between Zackray and VoiD with over 150,000 viewers - approximately the number of people that tuned in to Melee's Grand Finals earlier that day. Genesis 6 proved to be a huge success as the biggest Smash tournament outside of EVO ever, and Ultimate took center stage as the latest and greatest game in the Super Smash Bros. series. The competitive future of this game is looking very bright, and with young blood like MKLeo and Zackray dominating the competition, things are only going to get better from here.
If you didn't watch Genesis 6 and are interested in seeing what you missed, replays of every match are being uploaded to VGBootCamp's YouTube channel. If Ultimate's first supermajor piqued your interest in the competitive scene, you can check out /r/smashbros' list of community Facebook groups to find your local scene. The next major Smash tournament will be in Frostbite 2019 in Detroit, Michigan from February 22nd to February 24th.