Faithful modernization of an old classic or awkward fusion of classic Pokémon with Go that misses the mark for both sets of fan base?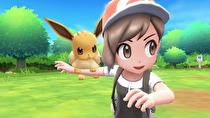 David finds himself in unfamiliar territory, defending the modernization of a classic RPG. On this weeks Thirsty Mage we debate the success or failure of Pokémon Let's Go.
David Lloyd, Adam Abou-Nasr, Jordan Rudek and Neal Ronaghan are this weeks panel.
The best way you can help is to give us a quick review on your device, whether that's hitting the 5 star button or typing out what you liked about the show.
Our Twitter handle is @TheThirstyMage and we would love to hear from you. Let us know if you liked the show, or if you had some game requests, or even if you have some advice of how we could improve. You can also reach me at David@TheThirstyMage.com
Thirsty Mage theme song is courtesy of Perry Burkum